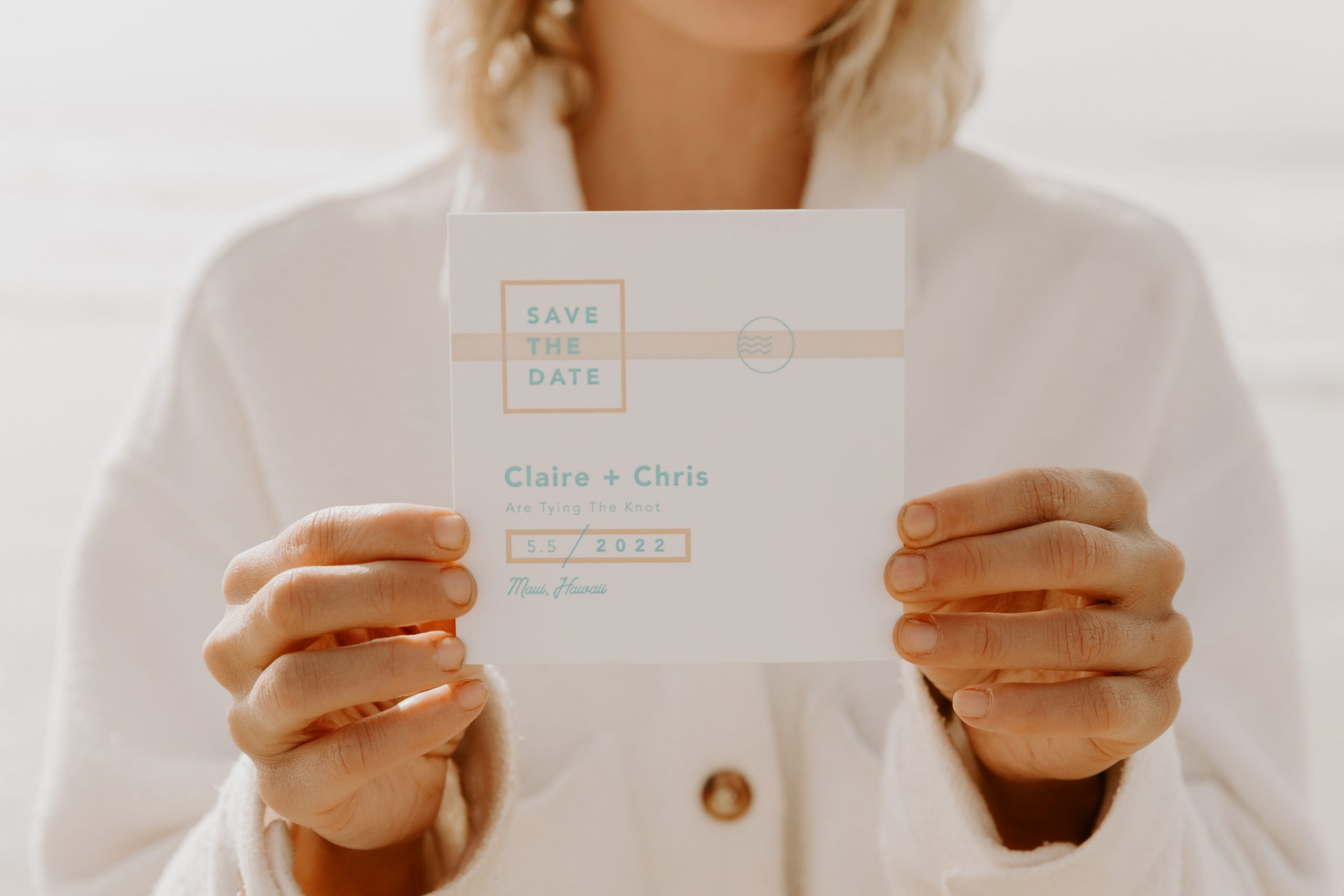 Pop the bubbly, you're engaged!
Still floating on cloud nine, you're dreaming of all the big things on the horizon. Then, reality sets in. The planning, the militant attention to detail that fully mapping out a wedding requires. Oof, we're already exhausted! So, what's a modern, style-minded gal to do when deciding on stationery for the big day? We see you! Wide Eyes Paper Co. has made selecting and ordering unique wedding invitations a chill and simple process with our new Modern Line.
You're a little short on time, but big on maintaining the quality of craft wedding invitations. Our Modern Line provides a perfect solution for couples seeking the ease of ready-made wedding invitations, yet offers the authenticity of one-of-a-kind, distinctive stationery. The Modern Line, produced in collaboration with Perspektiiv Design Co., currently offers four adventurous suite lines.
Modern Line Styles
The Island Suite
The world's been a little weird lately. Amongst these changes, traveling hasn't been a top priority. No fret- that doesn't mean we can't bring the island vibes to you and your guests! Our Island Suite invitations are the perfect choice for the "life's a beach" motto-ed couples. This suite is replete with charming accents that speak to a modern aesthetic, with a dash of whimsy. Digitally printed on durable thick-smooth paper, this suite's rounded edges and sophisticated shapes allow for an eye-catching invitation that can be fully customized. Print on either a 5×7 or quad-fold layout: the final set will be perfectly paired with matching envelope liners. These invitations are the next best thing to having sun-baked sand between your toes!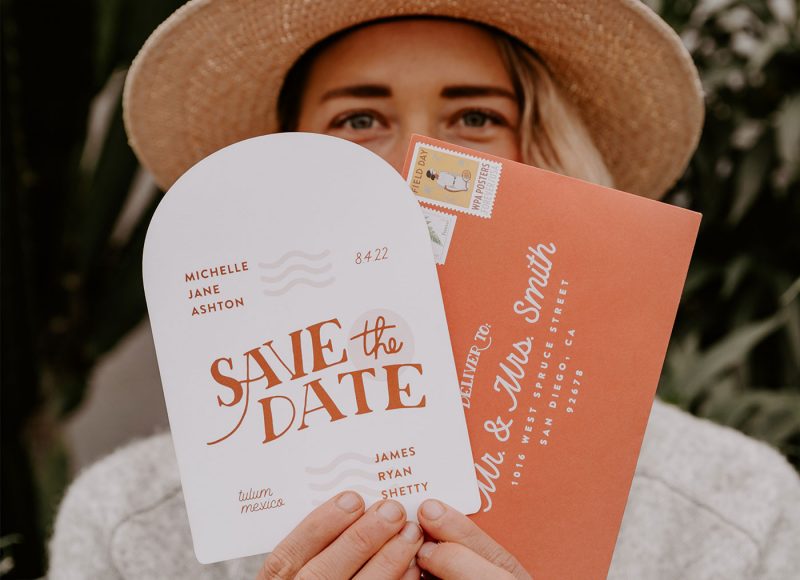 The Alpine Suite
Our second collection in the Modern Line is The Alpine Suite: for all the babes that enjoy taking their love to new heights, this one's for you! Inspired by the altitudes of mountainous ecosystems, our Alpine Suite wedding invitations can be printed on either quad-fold or 5×7 cotton paper stationery. Bold splashes of topographical accents make this suite a go-to. This set will come bundled with matching envelope liners and a personalized wooden tag engraved with the couple's initials. It's Wide Eyes Paper Co.'s spin on carving your initials into a tree.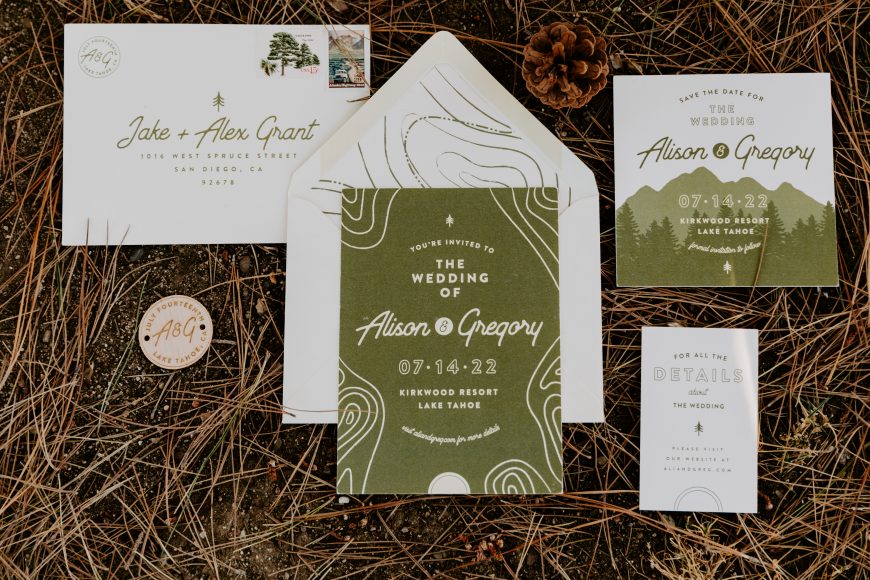 The Letterpress Seacoast Suite
Next in the line-up, we have the Letterpress Sea Coast Suite. This collection offers minimalistic, playful touches. Inspired by the energy of the sea, this suite will allow your guests to practically smell the salty mist coming off of the waves. This gorgeous set utilizes letterpress printing, and can elevate your invitations in such a tactile way. Text can be fully customized, and color palettes can be updated to perfectly match your wedding vibes. The Sea Coast Suite will also be delivered with matching envelope liners, offering peekaboo views of vivid, geometric seascapes.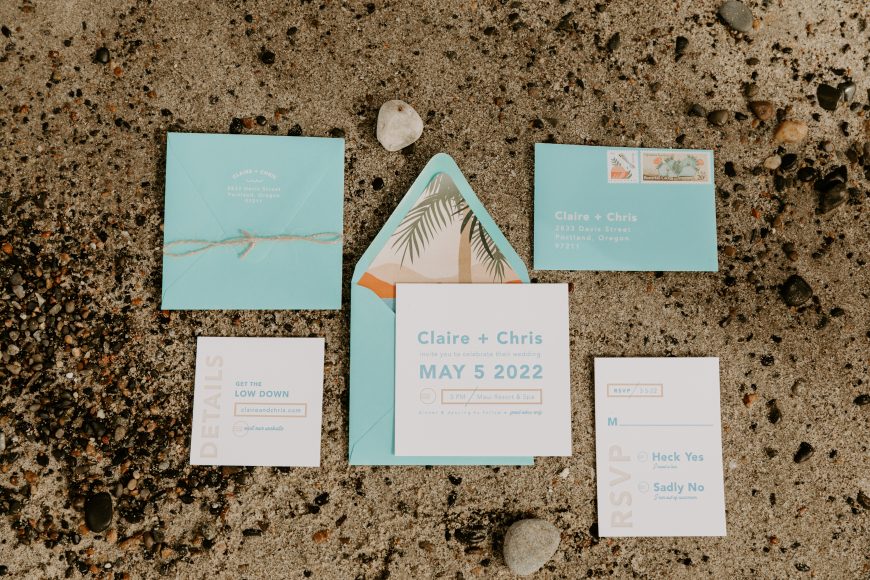 The Letterpress Wilderness Suite
Lastly, our Modern Line offers the sleek Letterpress Wilderness Suite. If this Suite were an item of clothing, it would be that show-stopping little black dress. We love this suite, printed on 5×7 cotton stationery, because it is classic yet fresh. Inspired by untamed nature, the striking contrast of eggshell white stationery and soft black detailing adds a refined quality to its wild-at-heart spirit. The included envelope liners are studded with illustrations of mountain landscapes, evoking the feeling of an explorer sketching his findings in a beloved journal. The included rustic wooden tags are personalized with the couple's initials, making it a perfect choice for wildlife-loving couples.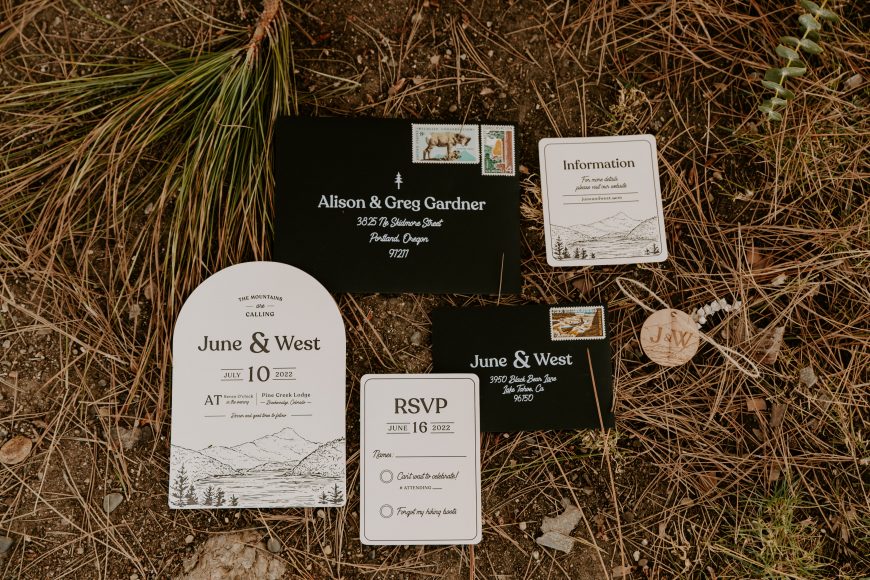 Wide Eyes Paper Co.'s Modern Line gives credit to the natural ecosystems we all marvel at, and incorporates their beauty into your special day. Each of the four suites serve as a wonderfully cost-effective approach to wedding invitations that may be needed on a tighter timeline. Whichever direction you choose, our Modern Line suites will leave you and your sweetie with on-brand wedding invitations, ready to delight. Excited to get going on your custom stationery? Us too. Drop us a line to start your stationery journey!